January 15, 2016
11:35 pm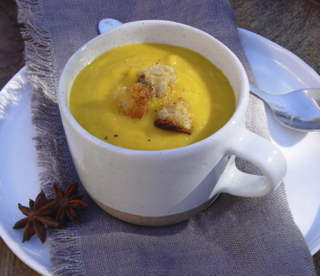 Butternut Squash...I'm embarrassed to admit that this was never an active player in my food repertoire...that is until lately. Squash, both summer and winter have never really called to me, aside from Pumpkin and that's only because of Pumpkin Pie, although I adore raw pumpkin seeds and the magnesium and zinc that come with them. Because this winter felt exceptionally cold, I started playing around with soup recipes, even ones that called for winter squash. And what I experienced was nothing short of ambrosial! How can I call myself a "foodie" having never danced with this lovely plant before? Out of all the recipes I played with, the one that truly made a believer out of me, is one by Sarah Britton, titled Butternut Squash, Leek and Apple Soup. For ease of preparation, minimal yet interesting combo of ingredients and absolute incredible taste, this recipe is one to try.
But enough about flavor, lets get to the nitty gritty of nutrients, for this member of the Cucurbitaceae family packs a wollop of anti-oxidant and anti-inflammatory goodness. Alpha Carotene, Beta Carotene, Lutein and Zeaxanthin for starters. This is a powerhouse of Vitamin A, followed with C and Vitamin E, Alpha Tocopherols along with being rich in B complex. But there's more, Butternut Squash provides a significant amount of potassium along with magnesium, calcium and manganese. And who would have thought that squash contains Omega 3's but it does, alpha linolenic (ALA) to be exact.
So what does all this mean? It's unique anti-oxidant and anti-inflammatory composition make it a strong contender for a healthy heart diet in preventing cardiovascular disease, assists with bone health and functioning of nervous and immune systems, improves blood sugar and insulin regulation, provides nutrients essential for optimal eyesight and integrity of our skin, and antioxidant manganese is important for cancer prevention. Pretty impressive.
If you haven't made Winter Squash a frequent visitor to your table, I encourage you to give it a try as I think you will be pleasantly surprised. Easily steamed or baked, it can be added to salads for a lovely pop of color, but who wouldn't want to include all the above nutrients as well? Bon appetit'.


You can find the recipe for Butternut Squash, Fennel and Apple Soup in my recipe section.
---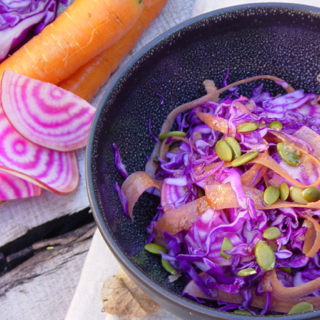 Let's make 2016 a Color Year. With all the buzz about Color Code pigments in food and how each color corresponds to a specific healing property of the body, why not unleash the creative artist in you and create plates that are an explosion of color. Let your imagination run wild!
This Moroccan Cabbage, Carrot and Chioggia Beet Salad offers a ton of anti-oxidant and anti-infammatory properties due to the anthocyanins contained in the purple pigment of the cabbage along with carotene in the orange pigment of the carrots. These provide a substantial dose of Vitamin A, C, K ,folate, magnesium and potassium, helping reduce LDL cholesterol, improving our immune system along with lowering our risk of heart disease, cancer and macular degeneration. What's not to love!
You can find the recipe for this salad in my recipe section.
---
December 29, 2015
10:42 pm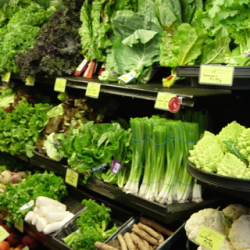 I was so amazed on a recent visit to our local Food Conspiracy Co-op for after all, this is December in the desert. But the array of picture perfect organic produce...the color alone is enough to make someone venture over into the world of "plant based" eating.

And being that it is the holidays, a time known for celebration and over-indulgence in rich, sweet and alcoholic, it would do a body good to include some of the above in some shape or form. Starting ones day with a green smoothie is a great way to pack in the chlorophyll before diving into homemade Christmas goodies at a company party or friend's get together. If we can remember balance, it will help us breeze through the remainder of the year without having to sacrifice all the hard earned wellness momentum. Cheers!